Atlantic City Country Club
Golf News
July 24, 2017
History Steeped Pocono Manor Resort & Spa
In-Kyung Kim Takes LPGA ShopRite Classic
McNabb Loses Playoff for PGA Pro Championship
TGA Premier Golf Challenges Convetional Methods
ING Conference Shows Latest Golf Equipment
Alejandra Llaneza Wins PA Women's Open
World Golf Hall of Fame
New Jersey Duo Win
3rd U.S. Women's Am 4-Ball
Results; Philly PGA , PPGS and AGA
Read the full version of Golf PA – Golf Northeast news for July 2017
June 4, 2017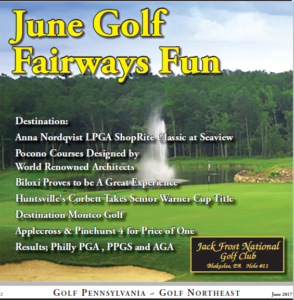 June Golf Fairways Fun
Destination:
Anna Nordqvist LPGA ShopRite Classic at Seaview
Pocono Courses Designed by World Renowned Architects
Biloxi Proves to be A Great Experience
Huntsville's Corbett Takes Senior Warner Cup Title
Destination Montco Golf
Applecross & Pinehurst 4 for Price of One
Results; Philly PGA , PPGS and AGA
Read the full version of Golf Pennsylvania Golf Northeast, June 2017
The Traveling Golfer at Historic Atlantic City Country Club

Traveling Golfer host, Tony Leodora, spends some time at the Dave Pelz Scoring Game School at PGA National. Dave Pelz is the coach of many PGA Tour Stars, and his state-of-the art methods and facilities are available to every golfer at his Pelz Golf schools across the country.
About Us
Golf Pennsylvania/Golf Northeast is a veteran golf tabloid, which is enjoying its 30th successful year.
Golf Pennsylvania/Golf Northeast is directed at the highly mobile golf enthusiast who is interested in the total golf picture – the PGA Tour, the Senior Tour, the LPGA, their scores and their statistics and also the local and state  tournaments, both amateur and professional.
Golf Pennsylvania/Golf Northeast also aims to impart to this individual information pertinent to the new trends in golf equipment and golf wear.
Golf Pennsylvania/Golf Northeast also, through our travel section gives the golf enthusiast up-to- date information on golf resorts.
Golf Pennsylvania/Golf Northeast will be published on a monthly basis starting in April and continuing through November.